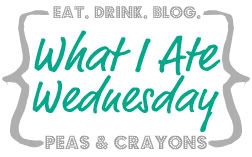 Courtesy of Peas & Crayons
Yay my first WIAW, "What I ate Wednesday!"
This is gonna be a quick post, I got a bit of bad news today so to treat myself I am going to watch a girly movie in bed and go to sleep early. I found out that I have to get oral surgery (skin grafts) and it is more intensive than they first thought. So I will be out of commission for about a week. I will be on a liquid diet for 2 weeks, Tylenol 3's for a week, and it will look like I got in a fight with someone from the bruising they say i will have. lol! I am petrified of dental work but they will be giving me local anesthesia and a sedative so I just need to learn some techniques to keep my self calm and not to get too worked up prior to the surgery. Wish me luck..... I think it will be sometime in march or april but they haven't given me my surgery date yet.
For breakfast I had a a berry smoothie. It was tasty and delicious but didn't keep me hungry for as long as I would have liked.
Lunch was a gluten free steak burrito with sauté peppers and mushrooms topped with salsa and avocado paired with a chickpea and feta side.
Dinner, was a chicken and soba noodle dish with kale, broccolini, mushrooms and a tasty orange, soy, chili flake sauce. With a side of purple yam. It was the first time I have tried a purple yam and OMG it was delicious!!!
Snack on the way home, handful (bag full) of almonds and a green tea and water.
I hope everyone had a wonderful Wednesday!